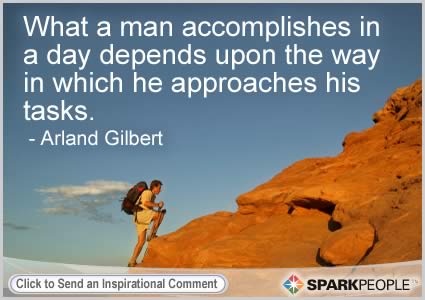 Gawd, how true! This hits home for me in so many ways... there are so many days when I start the day worrying about something, or tired, or just in a general bad mood. And doesn't that just set the tone for the rest of the day??? I was once told by a former boss of mine, that my mood tends to set the tone for the night at work... now, I find it hard to believe that I am responsible for 2o+ people on any given night but what she was trying to say that on the nights that I was up and high energy, that it was contagious and others picked up on that. She may have had a point but I still think she gave me too much credit for the mood of the crew. But I can see where her point does affect my daily life because if I am feeling bad, sad, mad, frustrated... I know my kids pick up on that and I have now started them off on a bad day as well.
I was thinking about this quote though and how it affects my fitness self. Lately, I am just enjoying life. I do have some back burner problems that are simmering... I don't mean to imply that all is perfect but I am not dwelling on those. I know they are there and I am taking steps to work on them. But anywho, back to my point... I did have one, right?... These last two weeks I have just had a completely different renewed sense of exhilaration! I look forward to exercising... whether it is the BodyRev or biking/walking or my strength exercises that I am doing. I love the feeling of euphoria that I seem to have right now. I look at my day and try to decide ahead of time where I am going to fit in some exercise and if it works, GREAT... if it doesn't, I try to adjust. And if I absolutely can't fit what I intended in, then I try to modify... my new motto is... Something... Anything is better than nothing!
Today K2 babysat her little charge at our house... K1 needed new gym shoes (he tried telling me he needed size 14!!! He got a size 12.)... there was dinner to worry about... I only had 2.5 hours of sleep this morning because of the interview... and I wanted to exercise... Normally, I would've stressed about wanting to do it all... I would've gotten myself worked up to a point where I was frustrated, upset and frazzled. But today I didn't let it get to me... K2 did her babysitting job... when the "little princess" left at 4:30, we hit some sports stores and the mall for new shoes for K1 (he is running the mile at school tomorrow and his old shoes wouldn't have made it). We spent longer than I had intended on the shoes but we left the mall with a pair he was happy with and that fit... I wasn't all that crazy about the price ($65) but it was cheaper than alot of the others that we saw... so half full type of thing. I decided to take it easy on myself and treat the kids to dinner at the mall (plus, I got to get my sandwich at B&N). We made it home by 7:00 and after seeing that the kids were settled in with their homework, I and my bike hit the road for the last remnants of sunshine. I had a great 40 minute ride thru neighborhood roads... I pushed myself on some and enjoyed the downhill breeze on others. When I came home, it was time to get everyone to bed. And I still managed to get in 35 minutes of my strength training program in.
The day went really well... and all of this on only 2.5 hours of sleep! But this was a perfect example for me of how a positive attitude can help get so much accomplished. Did I do everything? No... I have dirty dishes in the sink... not many though and they will be done in the a.m. while the kids are getting ready for school. No problem.
I really have to try to remember this... because I know this isn't a life change for me yet...but if I could just get to the point where this could be the norm, how great that could be. Oh, and as for influence... the girls had a much better day... I complimented them how nice it was not to have any fighting going on today.... small skirmishes but no major battles. AND K1 at 8:00 asked if it was okay if he went out and ran a mile... which he did. So maybe my positive attitude had something to do with that.
Think about it... how will you face your busy, hectic day tomorrow?