Hi, my name is Carrie and I am a Romance Addict.... hmmm.. could be because I don't have any in my real life! Books and movies in the romance genre are definitely at the top of my favorites lists. In my DVD collection, I have quite a few romantic movies,
Bridget Jones Diary
,
The Wedding Date
,
Love Actually
and the king of romance,
Pride and Prejudice.
There are many times when I will just pop one of these in and sit back and enjoy.
I have been on a HUGE
Pride and Prejudice
kick of late. The BBC production of it from 1995 is one of my favorite DVDs of all time. Sometimes when I need a pick me up or when J is travelling, I will pop it in and just enjoy! I never thought I would see another version that could satisfy me the way this one does. I mean Colin Firth as Mr. Darcy - yummy! Then the the newer version came out late in 2005. I never thought that it would even compete with my favorite version. But oh was I wrong! When the Keira Knightly version came out, I did see it in the theatres, of course, I had to. And I was pleasantly surprised with it. I liked it so much that I did buy the DVD when it came out. But it wasn't til this past month and I started blogging that I had renewed my acquaintance with it.
How does blogging fit in with watching a movie? Lately, I have had to do my computer time on J's laptop at the dining room table since he has taken over the regular computer for a big presentation that he is preparing for. Sitting in the dining room, I have access to a TV however, watching TV and trying to be creative tend to be at odds with each other. Rather than turn the TV off, I decided to pop in a DVD of a movie that I had seen. This way I wouldn't have to concentrate on the movie but instead it would be comfortable background noise for me. Well, I had just read
Darcy's Story
so I decided to pop the newer version in only because it was shorter than the BBC one.
In watching it, I began to fall desperately in love with Matthew McFadyen's portrayal of Darcy. I don't know what it is but just the dark hair and those eyes. They mesmerized me. I enjoyed watching it so much that I put it in again the next night while I played on the computer some more. Twice in two nights! Yep, like Elizabeth Bennet I was definitely falling for this new Darcy and new version of
Pride and Prejudice
. Now not to cast aside my old "friend", I naturally had to watch that one again. It took me two nights to watch.
Now I am torn... I don't know which is my favorite. I mean look at these guys... they are both playing the same character and very well too... but yet they are so different.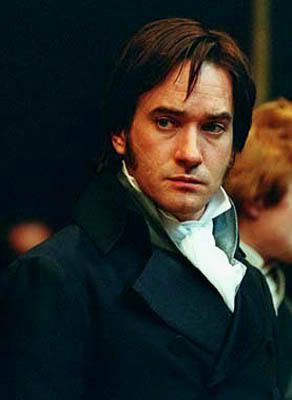 One of my biggest gripes about the new version is how they had to cut back on some of the plot lines but to fit it into a 2 our format that is understandable. The other thing I really dislike about the new version is the portrayal of Mr. Bingley. He comes across as some doofus. However, Bingley is not the reason that I love Pride and Prejudice anyway so it doesn't really matter.
Since I am not sure which or who is my favorite there is only one thing to do... keep on watching them both until I decide. Ah, such a hard task I have ahead of me!