The family and I finally managed to escape from home for two weeks... the only 2 weeks in our summer when we had nothing else scheduled! We are in our first week and having a fantastic time!! We left last Friday around 6:00 p.m. (later than I wanted but we still did okay). We drove til 1:30 a.m which put us at the South Dakota Welcome Center on I-90. It started raining around 1:00 a.m. - HARD! - and continued throughout the night. However, we were so tired that we had no problem sleeping despite the rain, lightning and the fact that we were sleeping in our van. We started stirring around 6:00 a.m. and were on our way by 7:00.
Our first sightseeing activity was the Corn Palace in Mitchell, SD. Could we possibly do a drive thru this state and not stop here?? The general reaction from the kids... "CORNY!" (hmmm, sounds appropriate)... one said "Cheesy" but you'd think being from WI that would count as a compliment. But hey, now we can say that we've been there... and don't really need to go back again. :)
After the Corn Palace our next stop was the Badlands. It didn't take long til it felt like we had stepped off our spaceship onto some other planet. The landscape here was so incredible. We did a couple of stops including one at the Visitor Center where we had a picnic lunch and did some minor exploring of some of the stops. One of our favorites was a spot near the entrance where we were able to leave the walkway and explore among the crevices. Incredible! And the silence just added to the feeling that you were the only one left on this strange planet. It would've been
nice to have a little more time to explore here but the day was ticking away and we still had at least an hour left to drive thru the park plus another 30 minutes to our hotel. It was during our drive thru the park that we came upon a prairie dog town. Holey moley... if you could've heard the screams and squeals coming from our van at the point... even my big, tough 14 yo was entranced by the cuteness of these little guys. They however were rather skittish and refused to co-operate with me and my camera. As I reviewed the map, I noted that there was a part off the beaten path (Hello! Can you say rough dirt road??) that was labeled as Roberts Prairie Dog Town. Hmmm... we could just stay on the main road and head back to the interstate or we could extend our visit in the Badlands by paying a visit to the prairie dogs. After the kids reaction to these little rodents,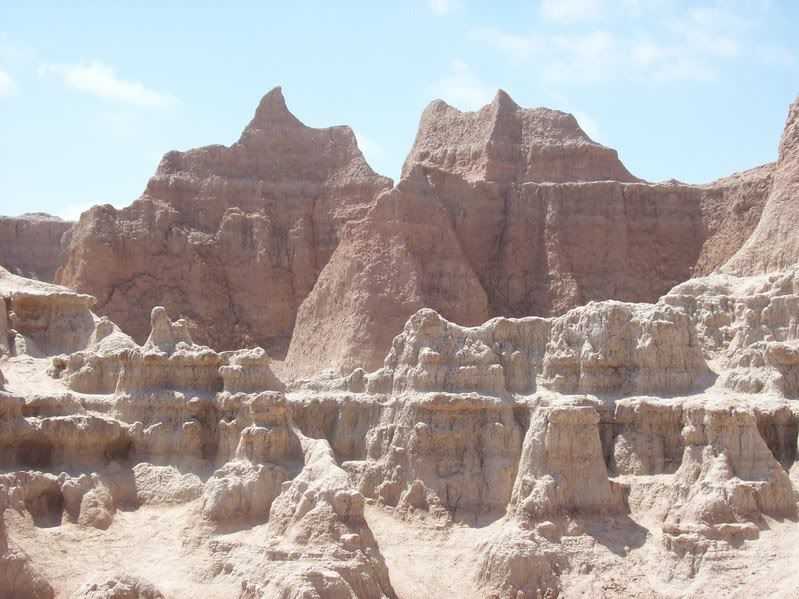 we knew we had to do this visit. The pups at Roberts were not skittish at all... in fact, they were extremely curious and definitely looking for hand-outs. We didn't even get out of the van. They came right up to it. One little guy we named Oliver because with his paws outstretched he seemed to be saying "Please, sir, may I have some more?" The kids would've been content to stay here the rest of the day but we desperately needed our hotel. Tempers were becoming short and crankiness was setting in... for some of us more than others... (although I will not mention any names, he is 6'2" and is graying heavily).
We made it to our hotel in Rapid City, SD around 6:30 that evening and were relieved to have a pool and bed to sleep in that night. Not too mention, 2 rooms... oh yeah, didn't I mention that I screwed up when I made my resevations online and somehow managed 2 rooms. Although by this point I was very tempted to make it a girls room and a boys room... someone's crankiness was getting harder to deal with (and the fact that I made a two hundred dollar error, didn't help any!)
Now let me give you a piece of advice... if you ever think about visiting South Dakota and in particular the Black Hills area... Do Not... I repeat, DO NOT go the first week (hell, be safe and do not go the first two weeks) of August. If you are asking why, then I know one of two things... either 1) you are not an American or 2) you are not a BIKER.
Does the word Sturgis mean anything to you?? Well, yeah, I had heard of it and seen pictures and such but as to when it was I had no idea until I was clued in right before we left. Now I have nothing against bikers, some of my family members own Harleys and a few have even been to Sturgis. But you can pretty much kiss peace and quiet good-bye. There is no where you can go in the entire Black Hills area and not hear the rumble of several (by several I mean at least 50) Harleys. Every parking lot (from our hotel to Mount Rushmore) was taken over by them. And those nice pull-outs along the Black Hills drives... forget about trying to get in there.... not possible unless you plan on knocking a bike or two down. Although aside from a few rude riders (let's ride down the middle of the road during slow traffic and squeeze in front of this van because we can), we did have fun looking at some of the custom paint jobs on some of the bikes. K1 even had me taking pictures of some of them. And J even spent $20 for a raffle ticket to win a cutom painted Crazy Horse Harley (I told him if he wins, he will have to get his license as we would be keeping that one).
Sunday was spent touring the Black Hills. We went to Mount Rushmore which J and I hadn't been to since we were kids. Here we did two Ranger talks, one along the Presidential trail and one at the Sculptor's building. We learned things about the men in rock that we had never known and it was interesting to hear how the monument had been carved.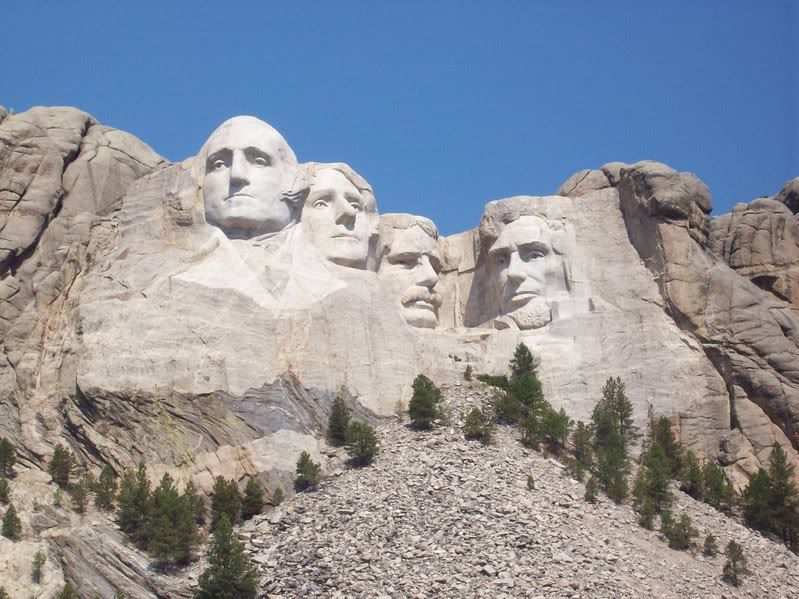 From Mount Rusmore, we headed to Crazy Horse. When you look at this huge monument (so much larger than Mount Rushmore), it doesn't look as if much has been done. The face is the only recognizable feature. However, after viewing the orientation film on the monument, you are made to realize just how much has been done... the amounts of rock from the face of the mountain that have been blown and carved away. However, for a mostly unfinished monument, there were quite a few visitors... at least as many if not more than Mount Rushmore. Really quite amazing if you think about it.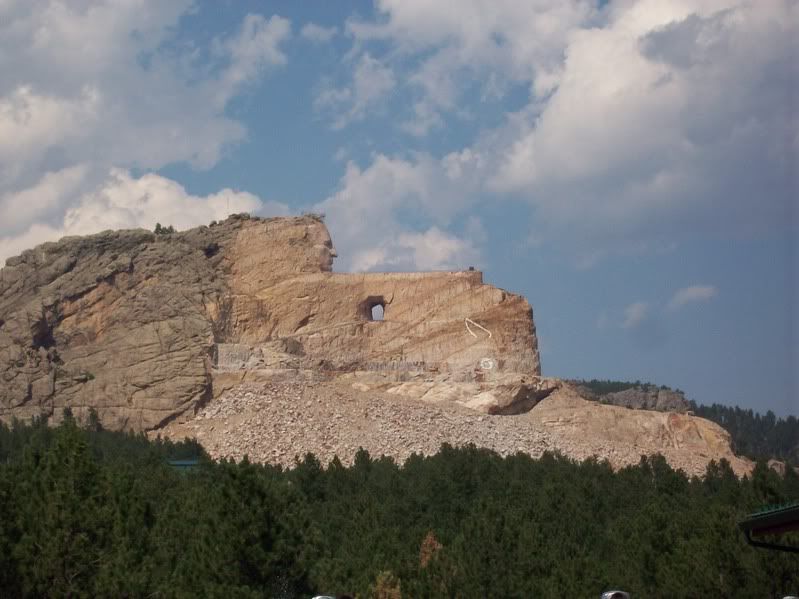 From Crazy Horse we set out to drive through the Black Hills, first by travelling Needles highway, then onto the Wildlife loop, where we saw our first Bison! Then along the Iron Ridge highway. The Black Hills are beautiful. I would love to go back someday and explore them more fully. There is so much to do that we hadn't even touched upon... definitely a return trip is going to have to be scheduled (just not during August!).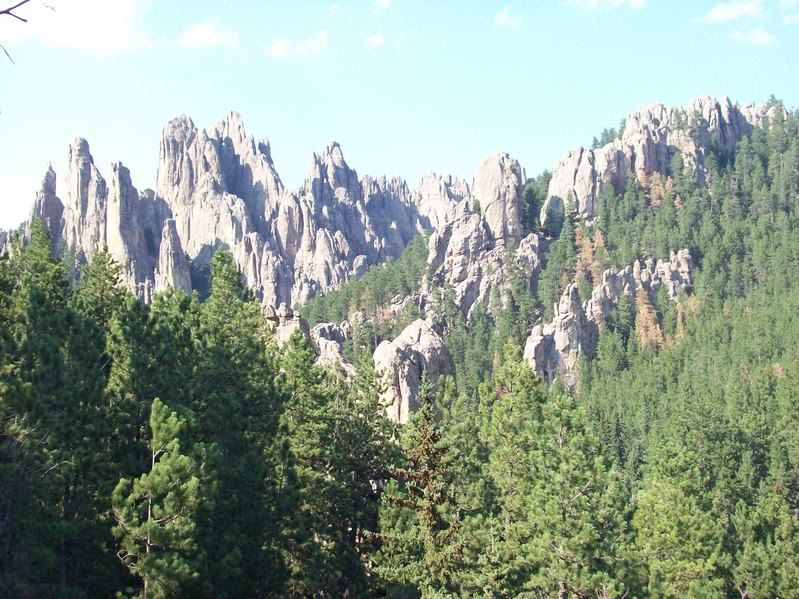 Monday we hit the road again, right after a stop at Starbucks (hey! It will be a week and a half before I see another one! I had to go.) At first we thought we would stop at Devil's Tower on our way but then decided that we would hit it on our return home. It's a good thing we did... because what should've been a 10.5 hour trip turned into a 12.5 hour trip. Now we did stop in Cody, WY for dinner and a Walmart trip and we were actually making good time up to that point. However, it wasn't until we hit the East gates of Yellowstone (Finally!) that our troubles began. The East entrance is under construction and we were held up about 20 minutes before we were able to travel the following miles at a snail's pace. Finally, we were able to cruise on only to be stopped 3 times because of wildlife in the road. We had bison and elk! It didn't take long for our first spottings. What I didn't realize is how all traffic stops in both directions when there is wildlife about and definitely when they are standing in the middle of the road. It killed us to drive past these sightings and some of the other roadside viewings however it was getting late and we needed to get to our hotel.
We have been extremely busy trying to do as much as we can since arriving. Somedays it just doesn't feel as if we are doing enough. However, we return to our room each night exhausted and ready to fall asleep because tomorrow is another day in paradise. I will try to add more but being on the computer vs. going to sleep??? Have to be honest and admit that sleep wins out most nights. Stay tuned for more updates.